Hi, my name is Torfinn Akselsen and I am from Norway and have been working in Malaysia since 2004. I will start my flight training within days from now. Here's my story and journey to fulfil this dream to become a pilot.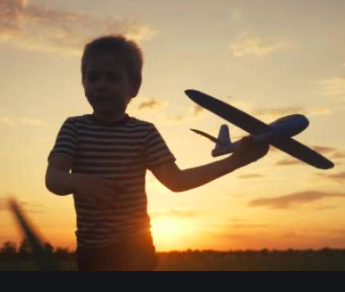 I was not much older than 5 years when I started to be interested in building things such as airplane models, that probably inspired me to become an engineer, along with the ambition to become a pilot. When I was 10, I started to be very fond of radio control airplanes. When I was 16 years old I got my first own radio control airplane and was hooked. At the age of 25 I completed my engineering degree in aviation but ended up working in an Oil & Gas Service company. After that, the only flight experience I got was through Microsoft Flight simulator for the next 20 years. Being so interested in aviation, as well as one of the first Europeans to see a Boeing 777 test version at NASA during my studies, and experiencing a live space shuttle landing, my nephew also became inspired to go to the skies. When my nephew graduated as a pilot, holidays in Norway always offered flight opportunities behind the controls in single engine aircrafts, that again re-fueled the dream of becoming a pilot. So I set my goal that I wanted to have a PPL before I turned 50 years old.
Then one day in July 2019, I met up with a guy from Germany who was Andreas Walther. He was very enthusiastic about Air Adventure and flying in general. Long story short, during August 2019 I did my medical, applied SPL and then started my Ground classes. As having a full-time job, I studied mainly on the weekends. After 10 weeks I was ready to sit for the theoretical exams and passed all exams and tests required in October 2019. I was now ready to continue my flight training. But due to the new regulation from CAAM and COVID19 it took a little more time to wait. But finally time has come for enjoying the hours in the sky towards PPL.
Here is what I did for the ground classes, just a hint to those who need to go through this, all I can say, read the books and take notes.. you will need them
1.) ACGK or in other words Aircraft general knowledge. This subject covers what is an aircraft, whats the principles behind flying, a little aerodynamics and how to propel and control the aircraft
2.) Airlaw, this is like the highway code for a car license. Just memorize and practice quizzes and you pass easily.
3.) Metrology & Navigation. Before we fly we need to understand if weather permits flying. Metrology was straightforward and easy to understand. As PPL is flying by visual flight rules, we as well need to know where we are. Hence, Navigation is a quite essential subject to know. Not too difficult and if you know how to understand and compute speed/distance/time relations you are advanced already.
4.) HPL, Human Performance Limitations. That was a subject I feared as it seemed very medical. Not becoming a doctor. Turned out not too hard by practicing quizzes and memorising key terms.
5.) FPPL, Flight Performance and Planning. The toughest subject. Needs hard work around understanding the limitations of the aircraft in air and ground through all phases of the flight. As in the word "planning", this is all about what you need to think about ahead of any flight for making sure your flight is safe and sound.
5.) VFR COM, talk like a Pilot and understand how communication by radio works. Memorising of the language/abbreviations used. Just need practice and easy to learn.
6.) Type Tech, a subject on the technical data on the specific aircraft we use, Cessna 172.
7.) EPTL, English Proficiency Test. Practice samples and get a 6. Then you dont need to sit again to demonstrate your skill at regular intervals.
here is my up to date flying experience….(this will be updated as the training progresses)
First Introduction flight with Andreas. Beautiful weather and seeing Twin Towers from the air. Huge difference compared with flight in Norway as the air masses in Malaysia during afternoon are not as stable as in Norway that generates a lot of turbulence.
First I was a little stressed and overwhelmed due to all the clouds around and the turbulence we encountered. Probably not the best day to have an introductory flight. Was glad to have an experienced Captain like Andreas with me that time. But after a while, getting more relaxed, I can not share with you how that feeling of freedom of being above all problem has been on this short but very memorable flight. Truly liberating is the word that I have for this first time up in the air with Andreas…. I had to take notes after we landed, lots of stuff to remember…
First hour FAMILIARISATION. When I look at the syllabus it seems to be all about preparation.
Dec 17th 2020, Sortie 1, 2, 3: Excitement like a child on the 1st day of school. Overflow of information. Lots of homework to do, study guide and check lists to memorize at home is a key for effective learning. What a joy to finally start flying for real.
Dec 18th 2020, Sortie 4, 5, 6: Straight and level sounded so easy. A little bumpy weather made this much harder than it sounded at first. After a few hours of practice, it was suddenly not that difficult and just getting used to not chasing the altimeter (the device showing our flying altitude).
Dec 19th 2020, Sortie 7, 8: Wow what a beautiful sight the morning is, with light mist above the ground. Fantastic day of getting more confident in turning/climbing and descending
Dec 20th 2020, Sortie 9, 10: Ooops…..stalling was first scary. Something theoretical. First time I felt it was like aiming vertical to full stop even knowing only 14ish degrees…..after a few practices it was suddenly not that scary anymore. Impressive how far it is to possibly push the aircraft.
Dec 23rd 2020, Sortie 11, 12, 13: It is such a wow factor to approach a runway in the captains chair for the first time. My favorite sorties so far.
Dec 25th 2020, Sortie 14, 15, 16: Ouch, steep turn felt scary at first banking so much, but after a few practices it was much more relaxing. Simulated instrument flying where partly blindfolded to prevent outside view was truly not like flying a flight simulator. Really a challenge to fly straight and level, along with turning without looking outside…..
Dec 26th 2020, Sortie 17, 18: After hours of practicing flying only by instruments, I felt suddenly more confident and could focus more on figuring out my position and navigating by utilizing a localizer and VOR
Dec 27th 2020, Sortie 19, 20: Fantastic day with diversion to Malacca and navigation practice. Little scary winds close to Tampin (most windy place in Malaysia) but safety first and steering a little more directly towards Malacca thus avoiding the worst wind effects. Awesome to fly cross country with so much to look at.
Dec 28th 2020, Sortie 21, 22, 23: Another beautiful day. Its a wow factor flying North in the early morning mist . Getting familiar with finding my way around. The "sandbox" to play is becoming bigger. Instrument practice en-route as well, truly under appreciated by students to be allowed looking out. I learned to use that "permission" to look out all the time. P.S. when instructor pull off power it means you are supposed to demonstrate emergency landings….
Dec 29th 2020, Sortie 24, 25. More circuits. Pressure building up towards first Solo. A day with rough weather and crosswinds so challenging. Hope for better weather for 1st Solo…
Dec 30th 2020, Sortie 26, 27, 28. First Solo today. Difficult to believe how fast the last 2 weeks went. It was awesome finally passing the mark to go up in the sky alone. Good routine on checks helped maintaining confidence.
Dec 31st 2020, today was meant to be 2nd Solo day. Morning haze caused borderline to IMC, and therefore decided better safe than sorry. Did also sit for Practical Radio Test at CAAM in Putrajaya today. Got my clearance for cross country solo. Perfect end to the year. Look forward to next year.
Jan 1st 2021, Sortie 29, 30, 32. Second Solo. Growing stronger and more confident.
Jan 2nd 2021, Sortie 31, 34. Completed with Circuits and getting ready to expand into cross country solo. Fantastic feeling doing circuits and landings all by yourself.
Jan 4th 2021, Sortie 33, 36. First solo to Port Klang plus solo Navigation check out. Getting closer to the finish line more quickly now.
Jan 5th 2021, Sortie 35, 37. A day all by myself. First Navigation Solo. Also experienced blind radio transmissions on my first Navigation solo. Always adventurous those solo's. Perfect weather and could not ask for more.
Jan 9th 2021, Sortie 38, 40, 41. On my own, more pressure on weather decision making. Awesome day but challenging winds inland to Melaka. Glad with instructor to Melaka. Melaka solo next, will choose coastal route as a safer choice. Had also another awesome Navigation solo up North with more calm weather. Almost done with PPL. Starting to feel like a real pilot now.
Jan 10th 2021, Sortie 39. Solo Melaka. Adventure day! Challenging weather conditions raised stress level somewhat, but all the good training by Andreas paid off. Few more hours preparation on GH and then PPL Examination coming. Hopefully not shut down due to new MCO, waiting anxiously for what happens tomorrow.
To be updated.